Claude Debussy—a music appreciation lesson for kids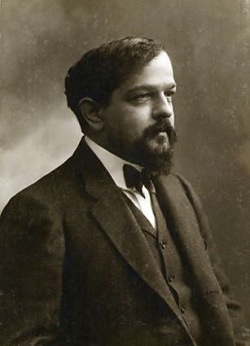 Claude Debussy
Biography
Claude Debussy (1862-1918) was a French composer. He started studying music when he was nine. From age ten on he studied in the Paris Conservatory time. He won the Prix de Rome while at the Paris Conservatory and got a scholarship to the Academy of Beaux-Arts. Debussy's music was different from the typical music of his day. This meant his works were not always liked and were even ridiculed. He liked using some dissonant chords, different harmonies, a lot of pedal (in piano music), and other features that were new for European music.
Debussy's musical style is often titled as "impressionism." Debussy himself, however, disliked that term. The style of impressionism is also found in the visual arts: there are several artists who did impressionists paintings, for example Monet.
Debussy composed a lot of music for piano and for voice, a fair amount for the orchestra, and a little bit for other individual instruments. He also wrote several ballets.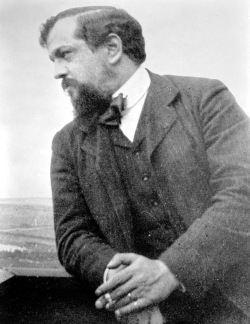 Claude Debussy
Debussy was married twice. He had one daughter called Claude-Emma (nicknamed Chouchou) with his second wife, Emma Bardac. Debussy died from colorectal cancer in 1918 in Paris while the city was being bombarded (it was World War I). His only daughter only outlived him by one year—she died from diphtheria in 1919.
Listen to Debussy
Debuyssy's music is different from other classical music, such as Mozart or Beethoven. It has a different sound to it, because Debussy liked using new-sounding harmonies and chords. Use the resources below to listen to at least two pieces of Debussy's music. Debussy's pieces are usually descriptive of something. When you listen, can you visualize (see) in your mind what the music is depicting? You can also draw if you'd like. Compare your thoughts and feelings with those around you.
Clair de Lune Performed by Angela Hewitt at Royal Conservatory of Music at Toronto's Koerner Hall.
The Girl with the Flaxen Hair, a simple piano piece, filled with grace and a little mystery. Performed by Tal-Haim Samnon.
La Mer (The Sea), 1st movement (From dawn to noon on the sea). La Mer is a symphonic poem. This means it's composed for the orchestra, and is "poem-like". Do you think it illustrates from dawn to noon on the sea? Performed by Seoul Philharmonic Orchestra, conducted by MYUNG-WHUN CHUNG, at Seoul Arts Center, Aug 21 2009.

Golliwogg's Cakewalk, performed here by Debussy himself, reminds you of ragtime music. This little piece is from a series of piano pieces called "Children's Corner" that Debussy dedicated to his only daughter, Claude-Emma. "Cakewalk" refers to a type of dance. "Golliwogg" is a type of rag doll popular in the late 1800s. (The video only has a still picture with an audio of Debussy himself playing the piece.)
Golliwogg's Cakewalk again — compare Debussy's interpretation above with the interpretation with this young 10-year old pianist, Umi Garrett:
Sonate for harp, flute, and viola (1st Movement). Debussy composed this in 1915, so it is an example of the style of music he composed in the latter part of his life. Performed by The New York Harp Trio.
Arabesque No. 1 for piano, a very nice piece! Performed by Stanislav Bunin.
Audios of Debussy's music
Clair de Lune (piano). Performed by Robin Alciatore.
La Mer, part 1. Performed by US Air Force Band.
First Arabesque (piano). Performed by Glen W. Prillaman.
Beau Soir for cello and piano. Performed by John Michel.
Mazurka (piano). Performed by Benoit Mortgat.
Audios on external websites
Piano Society - Debussy
Debussy composed a lot for piano, pieces such as Children's Corner, Preludes, Suite Bergamasque, Estampes, Images, and more. You can find a lot of it at Piano Society, played by various artists who have uploaded their performances for us to listen for free.
---
I hope you liked the song/lesson!

I'd also like to introduce you to my favorite: 24K Gold Music - dynamic musical showband performing many genres and styles of music!