Frédéric Chopin—a music appreciation lesson for kids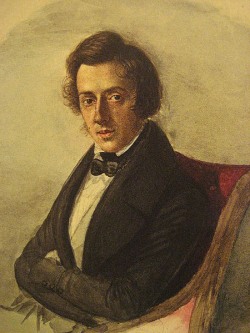 Frédéric Chopin in 1835 (25 years old)
Biography
Frédéric Chopin (1810-1849) was a Polish composer and pianist. He lived only 39 years (!) because he was a sickly person. Finally he was bedridden, got weaker and weaker, and died. People think Chopin suffered from tuberculosis.
Chopin is very well known for his piano music. He was a very good pianist, and also a piano teacher. The music he composed was either for solo piano, or for piano with other instruments. He composed lots of short pieces, such as etudes, nocturnes, mazurkas, waltzes, polonaises and so on. Many of them are very difficult to perform, but the music in them is very beautiful! Chopin is well known for his melodies and deep expressions in his piano music.
Chopin was born and raised in Poland. In 1830 the Polish people tried to rise up against Russian rule. The next year this uprising or revolution was crushed by the Russian army, and Chopin then moved to Paris, France. He never returned to Poland after that.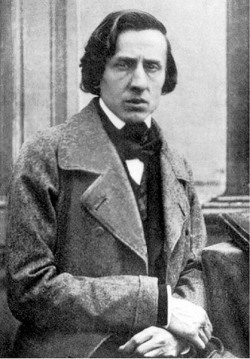 The only known photograph of Chopin (1849)
Chopin never married nor had children. However, for ten years, he did live with a woman called Amantine Aurore Lucile Dupin, a famous author with pen name George Sand. After a while, Sand became like a nurse to Chopin, because he was sick so often.
Listen to Chopin
Chopin's music is full of heart-felt emotions, and "poetic" (poem-like) feelings. He's been called "the only truly great composer for the piano" (by Vladimir Horowitz). Use the videos and audios below to listen to at least threee pieces of Chopin's music. When you listen, imagine and try to visualize (see) in your mind what the music is depicting. What can you see or feel when listening to the music?
You can also draw on paper what you see in your mind. Compare your thoughts and feelings with those around you.
Valentina Lisitsa plays Chopin's Etude Op. 10 No. 4. Etude is a French word that means a "study". It is a short piece that is meant for an exercise. However, Chopin's etudes don't only exercise and give practice about how to play piano — they are also expressive and emotional music in themselves. This one is a very fast piece, thus it is difficult to play.
Valentina Lisitsa plays Chopin's Etude Op 10 No. 5. Here the right hand plays almost solely on black keys, and again very fast.
Revolutionary Étude (Op. 10, No. 12). When Chopin wrote this piece in 1831, his homeland Poland tried to rise up and break free from the Russian rule over it. This revolution failed and was eventually crushed by the Russian army. Chopin said about it, "All this has caused me much pain. Who could have foreseen it!" Performed by 19-year-old Aya. Look how difficult it is for the left hand!
The "Minute Waltz" (Op. 64, No. 1)—a very famous and playful, short piece. Performed by Tzvi Erez. The word "minute" here means "tiny", not a time measure. This piece is NOT meant to be played within one minute of time! Chopin got inspired to write this little waltz as he was watching a small dog chase its tail.
Nocturne Op. 9 No. 2 in E flat major, performed by Yundi Li. Nocturne means a musical piece that is inspired by the night.
Nocturne Op. 27 No. 2 in D flat major, playing Eric Lu. Chopin wrote many nocturnes.
Audios of Chopin's music
"Minute" Waltz, performed by Peter Gerwinski:
Nocturne Op. 9. No. 2, performed by Martha Goldstein:
Revolutionary Etude, performed by Martha Goldstein:

Etude Op. 25 No. 8, D flat major, performed by Martha Goldstein:

Etude Op. 25 No. 9, G flat major, performed by Martha Goldstein:

Audios on external websites
Piano Society - Chopin's music
You can find nearly all of Chopin's piano music here, played by various piano artists who have uploaded their performances for us to listen for free.
---
I hope you liked the song/lesson!

I'd also like to introduce you to my favorite: 24K Gold Music - dynamic musical showband performing many genres and styles of music!