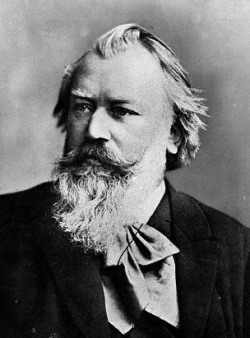 Johannes Brahms
Johannes Brahms—a music appreciation lesson for kids
Biography
Johannes Brahms (1833-1897) was a German composer and pianist. He became quite popular in his lifetime, and is now thought of as one of the main composers of the Romantic period.
Brahms lived most of his life in Vienna, Austria. He worked as a conductor, music teacher, and a composer. He composed a lot of music in his lifetime, including for the orchestra, for the piano, for singers, chamber music, and choir music. However, his most famous musical pieces are just "small" compositions, such as his Hungarian Dances and a short song known as Brahm's Lullaby (Wiegenlied, Op. 49, No. 4 ).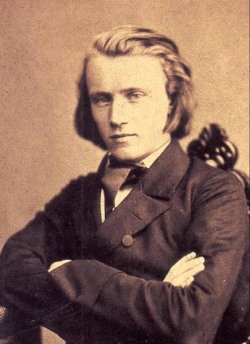 Johannes Brahms in 1853 (20 years old)
Brahms liked walking out in the nature, and often walked in the woods around Vienna. He'd always walk in a pose with his hands behind his back. He would bring penny candy on those walks and give it to children. He also liked traveling and often traveled to Italy in the spring, spending his time composing somewhere in the Italian countryside.
Brahms was able to gather some wealth from his compositions, but he continued to live very simply. He didn't move into fancier and bigger houses, but lived in an small apartment and had just one housekeeper who cooked and cleaned for him. He also wore cheap clothes and didn't always wear socks. People would strike jokes about his clothing habits, or about his long beard, or about the way he walked, etc.
Maybe living alone without a family made Brahms also somewhat grumpy... His student Gustav Jenner wrote, "Brahms has acquired, not without reason, the reputation for being a grump, even though few could also be as lovable as he." But Brahms also was very generous and often helped out his friends or music students with money.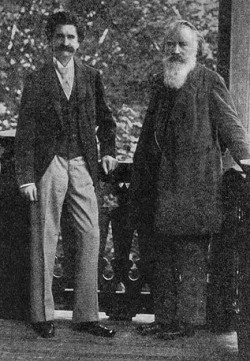 Johann Strauss and Brahms in Vienna
Listen to Brahms
Brahm's music sounds very much like other classical music, such as Mozart or Beethoven. Brahms did not want to write operas or symphonic poems or any music that had a "story" to it. He wanted music to be "plain" without any story attached to it. However, maybe YOU can come up with a story anyway, when you listen to Brahm's music. Imagine and try to see in your mind what the music could be depicting... even when Brahms didn't compose it to picture anything.
You can also draw on paper what you see in your mind. Compare your thoughts and feelings with those around you.
Hungarian dance no 1. Berlin Philharmonic, conducted by Daniel Barenboim.
Hungarian dance no 5. Hungarian Symphony Orchestra in Budapest
Hungarian Dance No. 4, for piano and four hands. This means two pianists on the same piano. The pianists are Francsico & Mireille Silva.
Brahm's Lullaby. I thought you might enjoy hearing it played on a HARP!
A three-minute sample from Brahm's Piano Concerto No. 2, performed by Krystian Zimerman, orchestra Berliner Philharmoniker, conducted by Sir Simon Rattle.
Symphony No. 3, movement 3. By the Frankfurt Radio Symphony Orchestra conducted by Philippe Herreweghe.
Brahms' Double Concerto for cello and violin in A minor, the third movement. The violinist is Anne-Sophie Mutter, and the celloist is Maximilian Hornung.
Audios of Brahms's music
Waltz 1 from Sixteen Waltzes for Piano, four hands, Op. 39. Performed by Martha Goldstein.

Waltz 5 from Sixteen Waltzes for Piano, four hands, Op. 39. Performed by Martha Goldstein.

Waltz 7 from Sixteen Waltzes for Piano, four hands, Op. 39. Performed by Martha Goldstein.

Waltz 12 from Sixteen Waltzes for Piano, four hands, Op. 39. Performed by Martha Goldstein.

Hungarian Dance, no. 5. Performed by Fulda Symphonic Orchestra.

Hungarian Dance, no. 6. Performed by Fulda Symphonic Orchestra.

Brahms cello sonata, 2nd movement. Performed by John Michel, cello.

Trio in A minor Op. 114, for piano, cello, and clarinet, 1st movement (a partial audio). Performed by Paul Pitman, piano, and two other performers. From Musopen.
Audios on external websites
Piano Society - Brahms
Brahms was a pianist and composed a lot for the piano, such as ballades, fantasias, intermezzi, concertos, sonatas, trios, waltzes, and more. You can find a lot of it at Piano Society, played by various artists who have uploaded their performances for us to listen for free.
---
I hope you liked the song/lesson!

I'd also like to introduce you to my favorite: 24K Gold Music - dynamic musical showband performing many genres and styles of music!