Johann Sebastian Bach—a music appreciation lesson for kids
Biography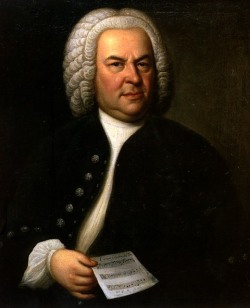 Bach is wearing a wig in this picture. In the 1700s, people had the habit of wearing wigs.

Johann Sebastian Bach was a German composer and musician. He lived from 1685 to 1750, and the style of his music is called BAROQUE music.

Bach was a great organist (organ player) and violinist. He worked as a church musician for St. Thomas Lutheran Church in Leipzig, Germany. This meant he had to constantly compose music for the church services (for choir, organ, harpshichord, and orchestra). So he composed LOTS and LOTS of music.

Bach had twenty children by two wives. Many of his children became good musicians, too. Bach was part of a large musical family. Many of Bach's sons knew how to play piano and many other instruments including flute, organ, and violin.

Some of Bach's most famous works are the Brandenburg Concertos, the Well-Tempered Clavier (for piano), and the organ work Toccata and Fugue in D Minor.

The music sheet below is Bach's own handwriting. It is a sonata for violin, E minor.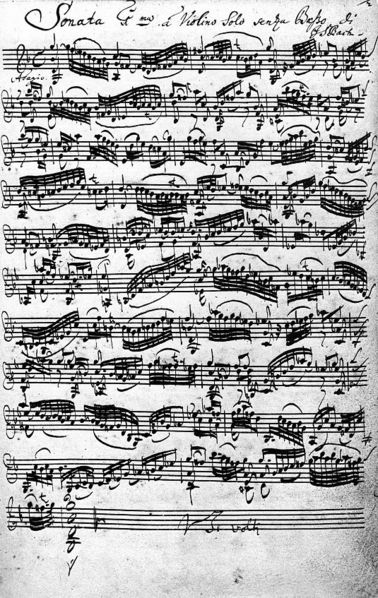 Listen to Bach's music!
As a music appreciation exercise, listen to at least two pieces of Bach's music using the resources below. When you listen, imagine and try to visualize (see) in your mind what the music is depicting. What can you see when listening to the music? Some animal? Some place? Some feeling? Some kind of weather?
For example, maybe some music makes you think of a grasshopper happily hopping along. Maybe the music makes you feel sad, like a child who can't go out to play on a rainy day. Or maybe it reminds you of a hot, busy day when farmers are harvesting their crops. Anything!
You can also draw on paper what you see in your mind. Compare your thoughts and feelings with those around you.
Air performed by Novosibirsk Philharmonic Chamber Orchestra
Listen to Brandenburg Concerto no. 6 (video only has a still picture)
Listen to Toccata and Fugue in D minor for organ (one of the most famous of Bach's pieces)
Suite No. 2 - Badinerie by Novosibirsk Philharmonic Chamber Orchestra
Minuette in G Major is an easy and famous piano piece that all beginning piano players get to play.
Here's a song from popular music (Lover's Concerto by the Toys) that uses the melody from Bach's Minuette!
Audios of Bach's music
Air Suite No. 3 in D major, performed by The United States Air Force Band:

Brandenburg Concerto 6, Mov. 1, performed by The U.S. Army Strings:

Minuetto 4 from Anna Magdalena Notebook, performed by Gokhan Damgaci:

---
I hope you liked the song/lesson!

I'd also like to introduce you to my favorite: 24K Gold Music - dynamic musical showband performing many genres and styles of music!